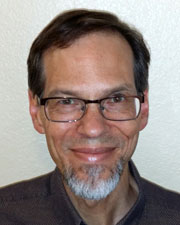 I am a Licensed Marriage and Family Therapist and a Certified Sex Addiction Therapist (CSAT).  I specialize in treating sex addicts, their partners and families. I am in private practice in Berkeley in the Elmwood neighborhood, and in Oakland near Lake Merritt.
In addition to treating sex addiction, I have years of experience working with adults, adolescents, and couples on issues such as depression, anxiety, relational difficulty, and spirituality.  I am also trained in EMDR, a psychotherapy that enables people to heal from the symptoms and emotional distress that are the result of traumatic or disturbing life experiences.
Dr. Patrick Carnes' research has found that a very high percentage of sex addicts have more than one addiction, and I have treated clients with multiple addictions to alcohol, drugs, food, and shopping as well.  I have found that combining psychotherapy with participation in 12-step programs can be quite helpful for many addicts; however, I've also witnessed people significantly improve their lives with psychotherapy alone.
My passion is to help people restore relational, mental, emotional, physical, and spiritual wholeness to their lives. I understand that it can be overwhelming to begin this process, so my therapeutic approach extends a warm, safe and structured space to openly address any areas of concern.
Changing old, limiting patterns takes courage, and having a therapist with the right blend of compassion, insight and humor can be a valuable ally on the road to transformation.
I have a MA degree in Counseling Psychology from the Institute of Transpersonal Psychology, and a MS degree in Eastern Studies and Comparative Psychology from Scranton University (Scranton, PA).
I am member of the International Institute for Trauma and Addiction Professionals (IITAP) and the Bay Area Sex Addiction Network of Professionals (BAY-SAN).
For more information on services I provide or a free 20 minute phone consultation, please call 510.394.2209 or visit me at: